Hi all!  I had so much fun reading your comments on the giveaway last week about what colors you would choose when making the Highland Tile quilt that I decided to do some digital 'sewing' and make some images for you of what your quilts might look like.
You all had such great ideas, it was hard to choose just a few of them.  I could play around your color suggestions all day!
Don't forget that if you buy the Quilt Theory Pattern Collector's Package, you will not only get all the patterns, but also the PDF coloring pages of all the quilts. You will be able to print them out and color to your heart's content!
And here are some of the colorways I came up with. You can tell I'm really loving blues lately!
Now on to the business at hand! Congratulations to Beth, the winner of the Highland Tile pattern, Quilt Theory Coloring Page PDFs, and Kona Half-yard bundle.
There should be an email from me in your inbox, Beth!
If you didn't win, don't fret!
The Highland Tile pattern is only $3 and can be purchased on the Quilt Theory website along with all the other amazing Quilt Theory patterns.
Let's take one more look at all the beautiful Quilt Theory patterns, shall we?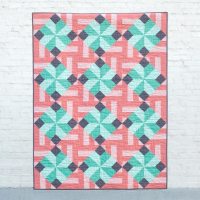 First off, we have 
Tiled Parquet 
designed by Yvonne Fuchs. I love the movement in this one!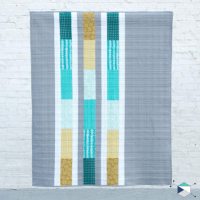 Strip It Down
 was designed by Stephanie Palmer and is a great quilt for showing off some of your favorite fabrics.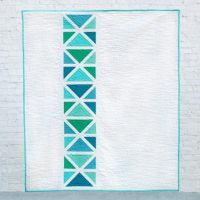 Kitty Wilkin's 
Ocean Path
 quilt is so peaceful! I just love that triangle design… I can't wait to try this one.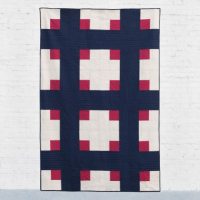 Cross Cabins
 was designed by Daily Aschehoug. It's such a cool, modern design and reminds me of modern architecture.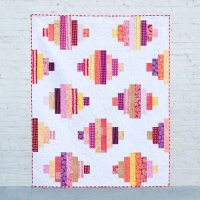 Cheryl Brickey designed 
Jelly Lanterns
, another great pattern for showing off your favorite line of fabrics. A great way to use up your beautiful jelly rolls!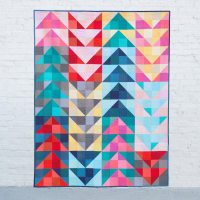 Scrappy Geese
 was designed by Michelle Bartholomew, our fearless leader. She did such a fabulous job creating movement and interest through color value. I love this one!
You can visit the Quilt Theory website to buy any of these patterns individually, or just get them all (with coloring pages!) for 19.99. Also, you can let your LQS know that you want them to stock Quilt Theory patterns!
I hope you've enjoyed the blog hop and giveaways. It's been a fun couple of weeks for all of us at Quilt Theory! Thanks for the outpouring of encouragement and support.
Happy Sewing, ~L